Written By: Joseph Bridges, Pre-Sales Engineer
One of the common challenges organizations face today is how do they ensure that their systems are available during a catastrophic failure. A catastrophic failure could be a server dying, a fire, a power outage, weather related, or any number of things that would make the systems inaccessible. This is something that all organizations should be concerned with. In most cases if a company does not have access to the systems that run their business, they are losing money.
Companies have been addressing the need for Disaster Recovery (DR) several different ways. Below is a list of some of the more common solutions.
Geographically redundant data centers

Could be company owned or a third-party colocation

Offsite backups
Cloud backups
Contour sees the need for redundancy and having a solid DR plan in place as being critical for all businesses. Contour strives to offer the best of breed DR as a Service (DRaaS) to meet their customer's varying needs.
Contour's DRaaS offering provides true replication of the customer's server environment to the Contour Cloud. This provides customers with a piece of mind that if there is a failure they will be up and running within minutes not hours or days. Depending upon the customer's specific requirements this service is provided using either Veeam or Zerto. Recovery Time Objective (RTO) and Recovery Point Objective (RPO) is what drives the decision about which solution will be fit the client's needs.
Below you will find a list that outlines the value Contour brings to the table as it relates to DR.
Contour is providing DR as a Service (DRaaS). This takes the day-to-day tasks of monitoring and managing the DR solutions off the customer's plate.
Replicating the customer's environment to the Contour cloud is significantly less expensive than it would be to replicate it to another location.
Contour's DRaaS provides full remote replication with a couple of mouse clicks ensuring rapid failover to the new environment.
This is an operational expense as compared to a capital expenditure making it a little easier for customer to acquire.
Contour's DRaaS also using a "consumption" based model which means they only pay for what they use when they use it.
In closing, DR should be top of mind for all companies who have mission critical solutions that drives their organization's business. Also while there are other more expensive and slower options for DR out there, Contour's DRaaS offing provides a fast, economical, and secure approach to solving our customer's DR needs. Make it a great day and thanks for reading this.
Written By: Chuck Mirarchi, CIO
When you Google search BaaS, don't be fooled into thinking it's just a back-end service. There is more to it. In this article I will explain how Contour's BaaS (backup-as-a-service) strategy is all about safeguarding your data with highly flexible, fast and efficient cloud-based backup and recovery for mission-critical data and NO EGRESS FEE.
We are experts! In today's technology there is nothing sexy or dramatic about backups – but backups are a lynch pin for business. Any IT shop – all IT shops in this case, should be performing the simple but necassary process of daily, weekly, monthly and incremental back-ups perfunctory as having a spare gasoline tank in your shed.
Is your business aware of the #1 resolution for a company who has experienced system disruptions, hacks, viruses, malware, data breaches or sabotage? Contour has the solutions – the ability to restore your data. Your data, the life and blood of any business.
If your back-ups are frequent and your restoral process has been tested, you can easily overcome incidents. Yes, easily. At Contour Data Solution it is even EAISER.
As a first step, Contour will ensure we efficiently utilize storage and network resources as well establish crisp cadences to meet backup windows and recovery time objectives. Our team of experts will provide the analytics and subject matter expertise for your operational performance and compliance.
Common challenges:
Today's business is more interested in artificial intelligence, RPO or transformation.  But today's challenge is having your IT Level 1 teams on a swivel – watching every alert and every ticket to ensure nothing is missed. The goal is to build trending, in order to predict an anomaly before it happens.  That is my mission! That is Contour's mission!
How Contour helps:
What is business critical and mission critical to your company?
If you are down for 1 hour or even one day – what is the finical impact to both your business and your customers?
What is the impact of data loss to the mission critical applications?
This how we help –  We customize a solution that fits your needs. We use or technologies and expertise to provide solutions, whether they are private cloud, public cloud, on-premises or off-premise in our geo-diverse data centers.
What about recovery times?  We got that too! We factor into the design process to minimize recovery times as well as your point objectives. We will implement and manage these solutions to fit your schedules and needs.
Check out our process here.
How we have helped current customers with BaaS:
The best part of working at Contour, is when a customer has dire needs, we can help, when all else is lost.
This year alone, fortunate it was only three but unfortunate three companies were either breached, compromised, sabotaged or affected by malware. In each case data was either corrupted or lost.
Because of Contour's Backup-as-a-Service strategy we knew we could restore the data in a short period of time. In one case a matter of a couple hours. In the more severe incidents, a half of a weekend. But Contour was able to restore 100% of the loss.
Like I said, 'the best part of the job' – helping others!
Written By: Chuck Mirarchi, CIO
Contour IT Managed Services crosses the spectrum of customer needs in both industry and technology.
In our private cloud we can help you move away from outdated legacy technology, un-useful data archives and onsite limitations. Because we are a boutique provider, we customize solutions to companies with limited IT staff, or with commodity solutions to companies who IT needs an enterprise class data center.
Because the landscape is changing in order to fit each customer's needs, the challenge is staffing or partnering with the right technologist, and technology.  Our tools are the best in the industry and fit industry standards. The trick for us is close customer contact and intimacy around their needs and specifications.
Although some providers may view Managed Services as an issue or even as a strategy, but for leadership at Contour, it is part of our fabric. It is our way to delight the customer – our ability to be diverse and stray away from the game-plan or margin or common solution. This is what sets us apart from the competition. It might not generate the best synergy or for capability maturity models, the best repeatable process, but there is always common ground to build repeatable menu driven processes.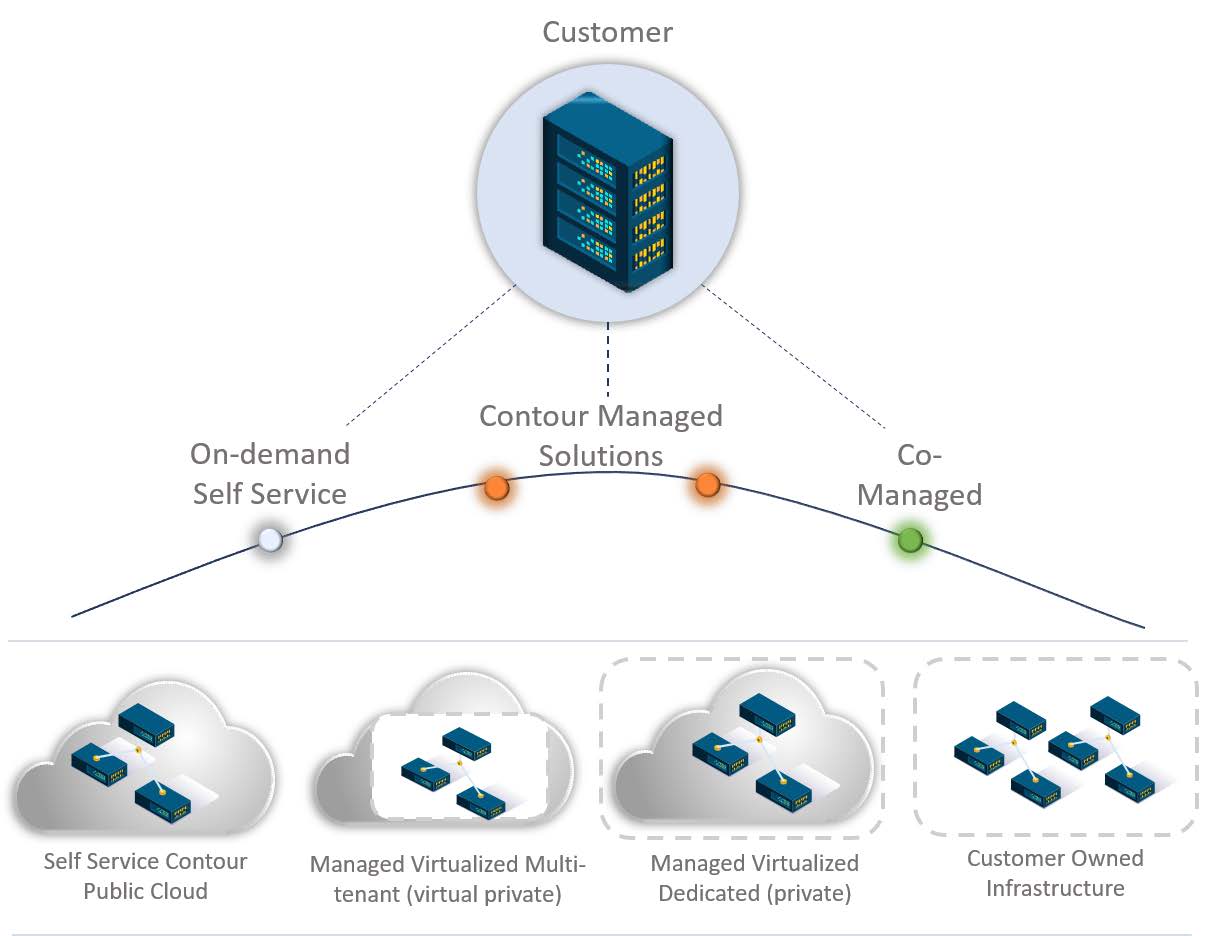 For starters, Contour spends a lot of time around the customers profile, requirements, and of course old fashion customer contact, calls, video conferences and site visits. It is important to build these into the front of the process, in order to have it flow from Sales to Delivery throughout its lifecycle. Because we use effective and versatile technology we can fit a standard playbook to match the customer needs.
The goal is to delight the customer. Alleviating them from that day to day, business as usual vicissitudes of IT.  That's what we do!